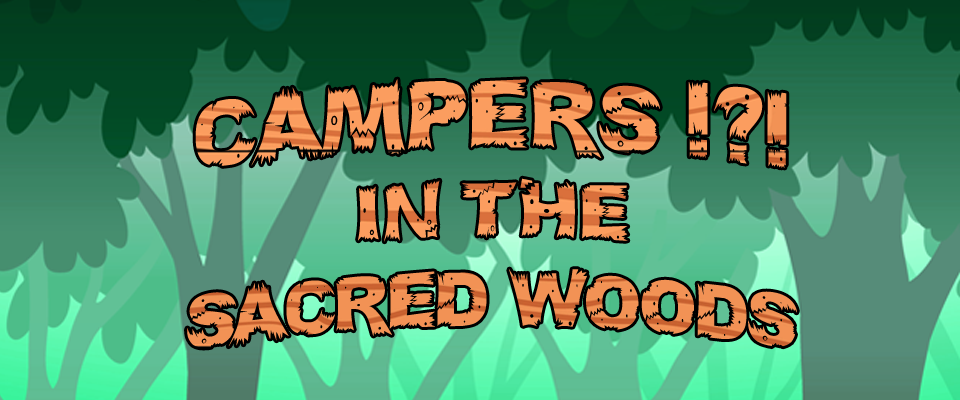 Campers !?! - in the Sacred Woods
Slowly you begin to wake up from your slumber. You feel it in your essence, the time for the next convention of the spirits of nature is near. This time they will come here in the sacred forest, to dine, to harmonise and to discuss. As you rise from your refuge you notice that something is off. There is more life in the woods than you expected. It is loud, it smells, it feels uncomfortable.
There are Humans in the middle of the Sacred Woods.
You have to do something, before the first spirits arrive. You have to get rid of the…

Campers !?!
in the Sacred Woods
---
Campers !?! in the Sacred Woods (CitSW) is a RPG where you and 1 to 3 friends try to get rid of human Campers by frightening them and spoiling their fun, before the congress of the Spirits begins. You have to be careful. If the Humans realise that higher powers are at work here, they will come here en mass to investigate and to gain profit from it.
You play as a spirit of the forest. You can be an elemental phenomenon, talking animal, moving plant, or even creatures from the world of myths itself.
Informations:
Players:
2- 4 player, GM less

Material:
two twelve sided dice (2D12)
Content:
20 pages, character sheets, Camper sheet

Playtime:
2 to 4 hours, no preparation
Triggers:
Everything that lives in the forest and ghost stuff

Artwork of the spirits: stony, leavy, tree-y, mushy, mousy by Katja Kluth
Artwork by freepik.com: board template, nature scene (background), wooden sign banner (pagenumber) by BRGFX
Knight emblems, black speaker, megaphone by FREEPIK
Mountain hiking, soldier equipment by MACROVECTOR
wooden signboards (title background), funny glasses by PCH.VECTOR
Purchase
In order to download this game you must purchase it at or above the minimum price of $2 USD. You will get access to the following files:
CAMPERS !?! in the Sacred Woods.pdf
12 MB
Exclusive content
Support this game at or above a special price point to receive something exclusive.
Community copies
Community copies are available for those who cannot afford the cost of this game. If you are concerned about the cost, I encourage you to take advantage of this offering. Please do not claim a community copy if you can afford to purchase the game. These are intended for those who cannot afford it.
For every purchase above the price listed, I will add an additional copy.