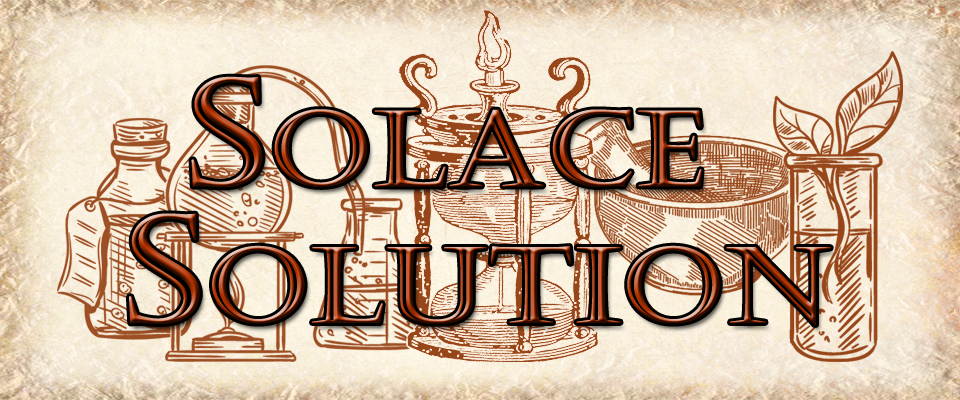 The Solace Solution RPG
How much would you sacrifice of yourself for a relationship?
SOLACE SOLUTION is a GM-less two-player game. The players take on the roles of two people whose relationship is no longer what it used to be and therefore want to brew a potion together to repair it. While choosing the ingredients they go through the reasons why they were close to each other and why they aren't anymore and have to decide at the end, if they really want to drink the potion.

The relationship can be romantic, or platonic (friends, business partners, clerk and loyal customers, work colleagues, etc.).
Informations:
Players:
2 player, GM less

Material:
deck of cards (52 + Joker), 2 opaque drinking cups
Content:
9 pages, potion matrix, question cards
Playtime:
40min to 2h, no preparation
Triggers:
End of relationship, Desire, Emotions
icons in the backround, header, cover and card by freepik.com
book page template by figu design
Purchase
In order to download this game you must purchase it at or above the minimum price of $2 USD. You will get access to the following files:
[PDF] The Solace Solution
17 MB
Exclusive content
Support this game at or above a special price point to receive something exclusive.
Community Copies
Community copies are available for those who cannot afford the cost of this game. If you are concerned about the cost, I encourage you to take advantage of this offering. Please do not claim a community copy if you can afford to purchase the game. These are intended for those who cannot afford it.

For every purchase above the price listed, I will add an additional copy.